Hotel Info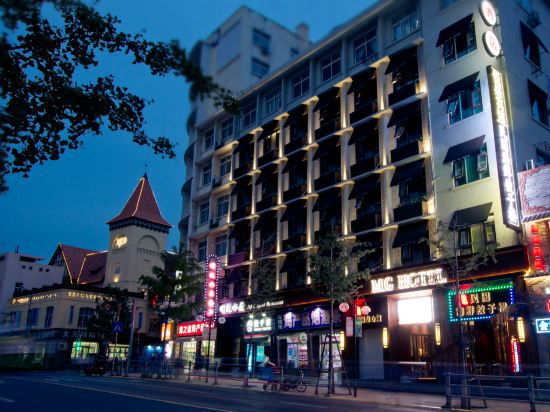 MG Hotel Qingdao
is located at the intersection of Zhongshan Road and Hubei Road in Shinan District of Qingdao city. It is located in the prosperous section of Zhongshan old street, a landmark tourist attraction in Qingdao. It is about 400 meters away from the trestle and 300 meters away from Zhongshan Road Station of 702 airport bus.
The Republic of China hotel has carefully prepared high-quality guest rooms with complete configuration: the natural flavor brought by pure solid wood furniture; 55 inch LCD network TV brings visual enjoyment; Comfortable experience brought by the whole bathroom; Natural latex mattress is soft and skin friendly, goose down quilt core is warm and light; Memory pillow, latex pillow, buckwheat pillow, down pillow and other carefully selected pillows meet the different sleep needs of different guests. The room provides 24-hour circulating hot water, high-speed broadband and Wi-Fi coverage, air purifier, safe, scale, mini bar and all kinds of boutique daily necessities, selected coffee, green tea, black tea, Laoshan Mountain mineral water to meet the exquisite life of every guest during the trip.
The Republic of China hotel has two local Chinese restaurants and a water bar dessert shop: the Seafood Dumpling House of the Republic of China is a very representative local restaurant, which provides local seafood fried dishes and dumplings. The restaurant provides room service, and you can experience local specialties at home. Located in the lobby of the water bar on the first floor, the dessert shop provides all kinds of desserts, drinks and drinks. Sitting here, you can feel the details of the century old street with an afternoon tea. Mingji aquatic restaurant focuses on special live seafood, which is provided directly from the wharf on the same day. A delicious trip to Qingdao will be started with one meal.
Based on the service concept of 'feel at home', the Republic of China hotel provides services in Chinese, English and Japanese. It provides electric irons, multi-functional data lines, medicine boxes and other borrowing items. It is committed to improving the check-in and service experience of every guest from all aspects, making the hotel a travel home for every guest.
Breakfast price
: CNY38($5.3) / person
Breakfast time
: 07:30-09:30
Breakfast type
: Set meal (Chinese)